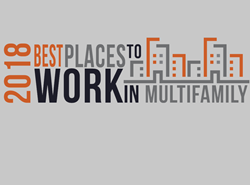 TUSTIN, Calif (PRWEB)
December 12, 2017
The best place to work in multifamily in Southern California is The REMM Group according to the Best Places to Work Multifamily contest for 2018. The REMM Group ranked 13th in the nation and are the top-ranked Southern California company. In the competitive world of Multifamily Management attracting top talent and providing an engaging culture is critical to success.
The application and examination process was conducted by Best Companies Group. The top 25 companies were honored at the Multifamily Leadership Summit in Scottsdale, Arizona on November 15th.
"Today's talent judge companies by more than the compensation package, they want to be valued, engaged and supported by their team and management. This contest allows us to see how well we are doing in relationship to our peers," said Sara D'Elia, CEO of The REMM Group, "Ranking 13th in the nation will attract top applicants to our company."
To be included in the ranking, real estate management companies competed in a rigorous assessment process. Each company's policies and procedures were evaluated along with the results of confidential employee surveys. The surveys accessed eight areas of the business:
Leadership and Planning
Corporate Culture and Communication
Role Satisfaction
Work Environment
Relationship with Supervisor
Training and Development
Pay and Benefits
Overall Engagement.
An extensive Gallop poll found that businesses with a critical mass of engaged employees outperformed their competition in customer ratings, profitability and productivity. Engaged employees are more efficient, better problem solvers and are more easily retained by the employer. They help lower operating costs while achieving higher resident satisfaction.
"We are continually seeking ways to improve the experience of our residents. Having satisfied, well-trained, engaged employees is one important key to providing residents with a great experience. We work hard to create that culture here. It is gratifying to see that our efforts have made us one of the best places to work in multifamily," said D'Elia.
The Best Companies Group employee survey found that the Southern California management company had an overall employee satisfaction rating of 95%. When asked if they would recommend working at The REMM Group to a friend, 99% said they would. Ninety-nine percent also said they would recommend the management company's services to a friend.
About the REMM Group
The REMM Group was awarded Accredited Real Estate Management Organization (AMO) of the Year for 2017 by IREM OC. Orange County Business Journal identified them as one of the county's fastest growing small businesses for 2016 and 2017. They provide property management for industrial, office, retail, mixed-use and multifamily properties. The REMM Group's corporate office is located at 15991 Red Hill Ave. Ste. 200 Tustin, CA 92780.
For additional information on the news that is subject of this release, contact Sara D'Elia at (714) 974-1010 x213, sdelia(at)remmgroup(dot)com, or visit http://www.remmgroup.com.